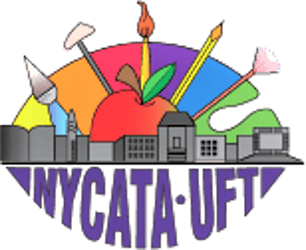 NYCATA/UFT serves as a standing professional committee of the United Federation of Teachers and operates in accordance with UFT committee procedures.
NYCATA/UFT MISSION STATEMENT: To encourage and support art educators in their profession and to advocate for quality art programs at all levels of education and in our communities.

We accomplish this by:

Keeping abreast of policies and legislation that effect our field, disseminating information about them, and responding to them in writing to appropriate policy-makers.

Sponsoring activities and events that highlight the work of art students and art educators and the process and content of art education.

Informing our colleagues, school communities and legislators of our philosophy, purpose and activities by disseminating our materials at the UFT Spring Conference and New Teacher city-wide meetings.

Participating with city/state/National organizations that: Provide opportunities for recognition of our student artists and artist/teachers - Develop policies that effect art education - Advocate for the goals of art education - Provide and develop resources for art educator
Collaborating with other organizations that share our concerns to develop a strong political voice, provide increased opportunities for art educators and students, and raise awareness in our society about art education resources and the critical need for art education for all students.

Provide professional development for art educators by sponsoring meetings, conferences, workshops, retreats and tours that meet the professional needs of our members and a forum for them to network and socialize with each other.

Recognize outstanding art students, art educators, artist-teachers, administrators, art advocates and outstanding school art programs.
Sponsoring NYCATA/UFT Student Art Awards, student art exhibitions and artist-teacher exhibitions..
As a standing professional committee of the UFT, NYCATA/UFT is supported by the UFT and there are no membership fees to join. Membership is extended to all persons whether they are UFT members or not.
A) Membership shall be open to all NYC art educators, art coordinators, art supervisors, art specialists, university and museum educators, school administrators, classroom teachers, retirees, college students, and any other individuals whose purposes are consistent with those of the Association.
B) Members that live/work in NYC are entitled to all privileges of the Association. Retired UFT members may participate / serve regardless of current address. Student activities / exhibits / awards etc are limited to students, artists and educators from NYC schools (public and private) NYC members are urged to serve in leadership roles by volunteering on committees as a pathway to consideration for appointment to the executive committee / board.*
C) Non UFT Persons and Organizations outside of NYC may join our mailing list/social media pages and attend general members meetings but unless otherwise noted may not be eligible to participate in all NYCATA events/activities or serve in leadership positions
*The office of President/Vice President (Executive Chair/Vice Chair) is reserved for current and retired UFT members.
Advocacy for Art Programs
We are committed to advocating for quality art education programs that foster creativity, critical thinking and self-expression for nyc students.
We strive to support and empower NYC art educators by providing professional development opportunities and resources.
We advocate for the inclusion and preservation of rigorous and sequential art programs for all levels of education and in our schools.
2022-2024 EXECUTIVE BOARD AND LEADERSHIP TEAM
President/Executive Chair
MARIO ASARO
Vice President/Chair
ERIN-MARIE ELMAN
Executive VP/Chairs
DEBORAH DeSTAFFAN
High Schools
LISA KAPLAN
Pre K - 8
ALBERT JUSTINIANO
Special Education
STEPHEN M. DRAKES
Higher Education
STEFANIE ABBEY
Teacher Enrichment
ANTONIO JACOBS
Digital Communications
JACKIE CRUZ
Secretary
CLARICE MIMS
Treasurer
=======================
MEMBERS–AT-LARGE
Thomas F. Naegele - Honorary
Marion Theodore - Active
COMMITTEE MEMBERS
Amy Schlossberg
Vida Sabbagi
Jessica Repetto
Lisa Helen DiBona
Tania Cintron
PRESIDENT EMERITA
Joan Davidson
UFT
Michael Mulgrew - President
Leroy Barr - Secretary
PROFESSIONAL COMMITTEES LIASONS
Mary Atkinson - Assistant Director
Crystal Deoraj - Coordinator
WRITE US AT
UFT, Professional Committees, 10th floor
50 -52 BROADWAY, NY, NY 10004
For direct response email:
Contact NYCATA
Please include your non doe email